Two New Moodle Versions in One Day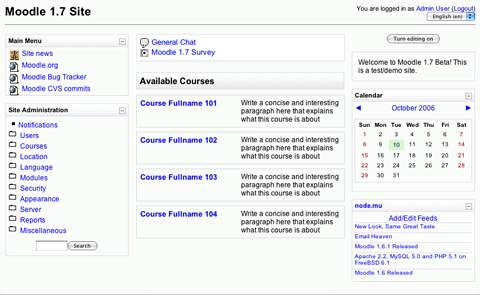 Moodle 1.7 Beta
Martin branched Moodle 1.7 from CVS HEAD today and announced the release of Moodle 1.7 Beta. This is a beta release, and is not recommended for production sites. The release notes has a list of the headline features for this new version:
Permissions based on fine-grained capabilities allow all kinds of roles to be created and assigned in all contexts around Moodle. This creates a great deal more flexibility in the permissions that you can grant to people.

Added support for MS-SQL and Oracle with more databases to come. Developers now have just one XML file to edit when changing the database structure, and there is even a very funky editor for this file built into Moodle

Completely new admin interface, with accessible design and cool features to make access to settings fast and easy.

The Topics and Weekly course formats now feature AJAX editing which means you can drag drop blocks, activities and sections (weeks/topics) and it all happens instantly. No more page reloading!

Making it easier for developers to write test code, which should ultimately lead to a more reliable Moodle.

Give it a spin, throw upgrades and course backups at it, and report any issues on our new bug tracker, my home for the the next few weeks!
Moodle 1.6.3
A new minor version of the current stable branch has also been cut. Moodle 1.6.3 is mainly a bug fix release. A list of improvements can be found in the 1.6.3 release notes.
As usual, you can grab the files from download.moodle.com.
comments powered by

Disqus